And when thou art come in, thou shalt shut the door upon thee and upon thy sons, and shalt pour out into all those vessels, and thou shalt set aside that which is full — 2 kings 4:4.
---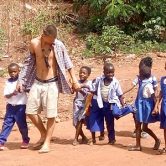 Faith is away from human props
They were to be alone with God, for they were not dealing with the laws of nature, nor human government, nor the church, nor the priesthood, nor even with the great prophet of god, but they must needs be isolated from all creatures, from all leaning circumstances, from all props of human reason, and swung off, as it were into the vast blue inter-stellar space, hanging on god alone, in touch with the fountain of miracles. — Streams in the desert.
is listening to the still small voice
How do you have faith? By hearing the Word of God (Romans 10:17) And how do you hear the Word of God? By listening to the "still small voice of God" (1 Kings 19:12). That voice that speaks to your heart when you are reading the Word or when you are praying. It is said that our conscience is the voice of God. If so, then when we choose to ignore what our conscience is telling us then are we not hardening our hearts against the voice of God?
obedience first
Practice listening to the still small voice of God then practice obedience to that voice. In so doing you are in effect building your relationship with the Lord. The blessing comes when you obey, not before. When you follow the voice of God then you will have faith that what you are doing is of God.