pan
His Facade
"I'm seeing this demon—clearly he's a demon, the arch–demon Pan—but he's not ugly. He's not horrific at all to look at. In fact, believe it or not, he's golden all over, almost beautiful to look at. I'd describe him best as looking almost godlike in form—like the ­Roman and Greek gods are often pictured. He has a human form, big golden wings, and a long golden tail. He has long fingernails and toenails. I'd say they're almost like claws, but he still has human hands and feet. His face is also golden, but he's clearly demonic. His eyes are fierce; there is no light in him or in his countenance."
He's bald. He has pointed ears, and he has these big horns on the side of his head, like ram's horns' curling back toward the back of his head. They're also golden. There is this big ornate and beautiful deep red jewel or gem right in the middle of his head—on top of his head—in between the horns. His head is definitely the most noticeable thing about him—because of the horns, and this jewel.
His jurisdiction
(Jesus speaking:) Satan and his demons can take different forms, just as Satan himself can even appear as an angel of light. What you have seen is indeed the arch-demon Pan. You are seeing him in the form in which he likes to manifest himself, as a golden god, the great demon who rules over the dominion of the mind—the mind that he seeks to elevate and lift up in defiance of Me and My Words of truth. This is his territory, his domain—the "mighty" mind of man, in which he lives to wreak havoc' sowing doubt' confusion, and complexity, the ultimate goal being to turn My children away from simplicity, from childlike faith and belief in Me and My Words. Even his head and this golden jewel placed atop it are symbolic of what he stands sovereign over—the mind—that which he worships and has power over' and which he seeks to use to displace Me.
facade uncovered
And you wonder at his golden form? He seeks, just like Satan, to counterfeit Me and My spiritual world; thus he coats his form in gold, but in reality he is coated in the thick layers and stench of pride. So I have placed horns upon his golden head, which cannot and do not leave him no matter what form he takes. They are a witness against him, for they are symbolic of his gross rebellion against Me and My ways and My truth—a symbol of his stubborn and gross idolatry.
musical pan
He is often pictured in Greek mythology as half–man, half-goat, playing upon pipes in a rural setting. This is the common worldly depiction of the mythological god Pan. The gods and goddesses of Roman and Greek mythology are often
romanticized in this way. But I've shown you the real picture of Pan, for he is much more of a powerful threat and foe to be fought and rebuked and cast out than a mere faun playing mischievously upon his pipes amidst the forest glades. However, I must alert you that this depiction of him playing upon pipes is indeed a reality in the spirit.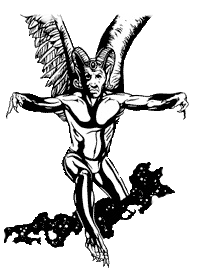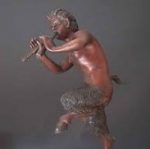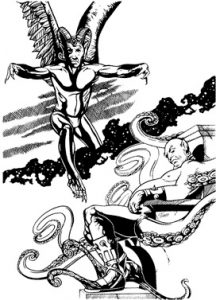 Spiritual pests and problems Spiritual pests and problems Spiritual pests and problems Spiritual pests and problems