"But in reality, anything that you hold close to your heart except for Me, will at some point disappoint you."
There are very few who choose to follow the Lord so passionately, to love Him so unreservedly, to want Him so desperately that they are willing to give all. But it's then that, without regret or reservation, you will know that Jesus is enough.
(C.T. Studd:)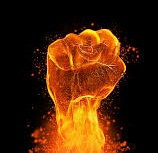 get on fire for god and the world will come out to see your burn!
helping others to find
Jesus
"It's often hard to really believe that happiness dwells in the spiritual places. It's easier to believe that you can get it through carnal means, such as any number of natural, physical things that you have an inborn human desire for.—Maybe by working for money so you can get any physical things you want, like a car, a house, a good-looking husband or wife' etc. However' you would find in the end that these things did not satisfy you. Why? Because satisfying your flesh or your carnal nature is not the way to satisfy your starving spirit. So many people are like this.
Thousands upon thousands and millions upon millions are searching for happiness, but in all the wrong places.This is what your lives on Earth are all about: finding this door back to true happiness, which is only in the spirit. And for you, My true children, it's all about showing others where to find that door, that entrance—Me." Jesus speaking
---
"I searched for 40 years trying to find the true religion, trying to find people who lived like Jesus and His disciples and His early followers, but I couldn't find them! I looked in the churches, where they were supposed to be, but I found no one like them there—no one who had forsaken all to follow Jesus!" Our declaration of independence
---
The flame of the oil lamp
"We need to learn to save the first place in our hearts and lives and time for Jesus. We belong to Him first of all, and the first place must belong to Him—for rest and prayer and fellowship with Jesus, and for feeding from His Word. We cannot do the Masters work without the Masters power—and to get it, we must spend time with the Master. Then we must let Him do the work through us.
We ought to take a lesson from the oil lamp: it must be the oil that burns and not the wick, for if the wick burns without oil, it will destroy itself. We must immerse ourselves in Jesus and let Him burn to light the way, because if we try to do that ourselves, we'll soon burn out.
The flame of the oil lamp burns so beautifully and brightly and clearly when the oil burns, but it gets smoky and stinky when just the wick burns. The lamp's wick must be deeply immersed in the oil. Most of the wick is in the oil, and only a tiny tip of it is exposed to the air and the flame. That way, its mostly oil that burns and very little of the wick—almost none period. The oil flows freely through a wick that is deeply soaked in the oil. Then it is the oil that burns and not the wick, and it gives bright, pure, clear light." David Berg
This is the only way to get on fire for God
The world is going to see one more Jesus revolution before the end, that is a promise made by God Himself. Read Revelations chapter 11. This revolution will not come from the church on any one group of people, it will come from those who love not their lives unto the death. It will come from those who through great persecution washed their robes in the blood of the Lamb, from those who separated themselves from the world in order to save those lost in the world. How can you save someone if you are drowning yourself?
Let the flame of the oil lamp burn freely…deeply soaked in the oil…Jesus!