LUKE 9:23
Prayer is so important, but it is one of the least used and most attacked weapons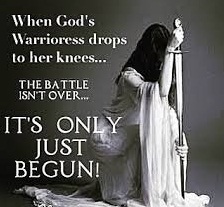 Satan has a whole division of his forces assigned to distract and keep you from prayer. They will use any tactic and they have every bit of Satan's power available to them, because it is the single most damaging act to Satan's kingdom. If Satan can get you to not turn your weapon on, to not use your equipment in the battlefield, he has triumphed over you.
KEEP IT SHARP !
Prayer is active service
"Prayer is not inactivity; prayer is not just sitting back and doing nothing, neither is it a waste of effort. Prayer is the essence of your service for Me. I want to repeat that. Prayer is the essence of your service for the Lord. It is by prayer that you show your dedication to Him and your service and loyalty.
Prayer is the sacrifice by which you prove your rank and your honor as a warrior.It is one of the basic requirements for any Christian soldier. Prayer is the fundamental upon which the war for this world is fought, and it is the starting point for every miracle."
Prayer is not a secondary weapon in your armory; it is a primary weapon.Prayer isn't a sideline back–up plan should you get in a tight spot. Prayer is the plan. Prayer is the strategy. Prayer is the ball in soccer, rugby, billiards, or any ball sport. Without prayer the heavenly game of your spiritual life would cease to exist." Art of War 4
Life as a soldier
"As a soldier, there are many things that you may be asked to do that are part of the duties of being a soldier. You may be asked to do guard duty that keeps you up all night. Something like that isn't "fun" or something you jump at the chance to do naturally. Such things are, however, a part of the life of a soldier and must be done in order to fulfill your duty and live the life you have chosen.
Prayer is one of those things. It requires a lot of work, but it returns great dividends. You must incorporate prayer into your life as part of your active service to God."
"I want you to realize just how important prayer is. It is so fundamental that it is the first thing to be attacked by the Enemy. This is why he makes you weary of prayer. This is why he makes you think it has no results, and is just a chore and drudgery." ART OF WAR 4
.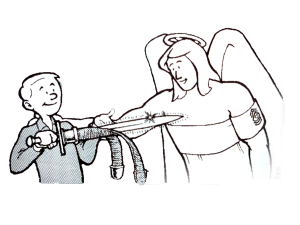 YOU WON'T NEED THE SCABBARD….WE ARE AT WAR!
War Room. . .War Room. . .War Room. . .War Room. . .War Room