EMWA
A non-government (NPO) rural development, training and research project
…and missionaries with a message
"You cannot make this world a better more loving place without first changing the heart of man."

Extra Mile West Africa was established in English-speaking Ghana, West Africa in 1998 as a rural community development organization. We are a non-profit, non-governmental organization registered with the Department of Social Welfare; registration No. CG091152017
We are committed to
Improving the livelihood of families living in rural Ghana.
Our goal is to change the world by empowering people through farm-related, business-creation projects.
"Give a man a fish and you feed him for a day; teach him how to fish and he is fed for life."
At our our agricultural research, training and development facility set outside of Nkwanta township in the Oti district of Ghana, West Africa. (see map)
Enhancing the quality of life for farm-based families and communities is our objective. This is accomplished through establishing on-ground pilot projects that offer practical and theory training modules to interested parties.
We do not simply hand out tools to do the job, instead we demonstrate through practical application how the tool is applied on ground. We are physically committed to our start-up projects until proven sustainable. That is to say we micromanage each project we involve ourselves and our partners in until a point of self-reliance is accomplished. Once a project has accomplished sustainability we remain with the now-established business as advisors.
Charitable projects are not sustainable. They only succeed in making the recipient dependent on the donor.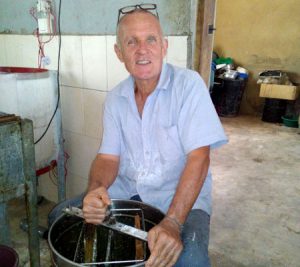 Stephen Williams
Project Manager
About our blog
mystical-bible.com

…was inspired by the lives and experiences of three Christian missionary families who have had more than thirty years of continual service on mission fields around the world. Their lives of faith and dedication should inspire you to greater heights in your personal walk and service for Jesus. Remember, we are given only one life to live; it will quickly pass. Only what's done for Christ will last. This blog may well be the most important cross-road in your life. By applying the lessons, suggestions and plain good advice written in this blog you will be well equipped to overcome any difficulties life throws at you. Satan fears even the weakest saint who knows how to wield the mighty weapon of the Word of God. GO TO
Our faith
is in the Son of God
Extra Mile West Africa is a Christian community committed to sharing the message of God's love with people. We seek to bring hope and spiritual renewal through the unconditional love of Jesus Christ that knows no borders or boundaries of race, creed, or social status. We strive to make a difference in our world by offering spiritual solutions for the challenges of life and translating God's love into actions that manifest kindness and compassion and improve the lives of others. We endeavor to follow the example of Jesus, whose ministry was "to preach the Gospel … to heal the brokenhearted, to proclaim liberty to the captives and recovery of sight to the blind" (The Bible, Luke 4:18 NKJV).