Langstroth Training Program
It would be difficult to find in Ghana beekeeping training program circles, a format as well rounded and professional as can be found at Extra Mile West Africa's beekeeper training facility . With (EMWA) you will learn modern beekeeping techniques using the "Langstroth" beehive method of beekeeping. Under the directorship of Viyada Enterprise, a fully equipped Beekeeping School was constructed in 2008 in the small town of Nkwanta, Oti District. The original "beehive pilot" project was upgraded to a full-fledged training package in mid-2009.
The construction of a modern honey processing and beekeeping training center was completed in 2012. At this center practical demonstrations on Langstroth Beekeeping were conducted. The program became so successful that by 2017-2018 it was decided to construct a Beekeeping Training School adjacent to the processing center. Presently the school offers a certificate course in practical and theory Langstroth Beekeeping.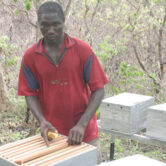 Managing Director Viyada Enterprise (Youth Chief of Nkwanta)
David Vivinyo
"Through the dedication and determination of members of Extra Mile West Africa, our district has become the largest honey producing area in Ghana. The economies of whole communities have been positively affected through the vision this project has instilled."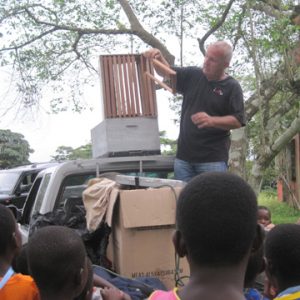 Aburi Mountains
Project manager
Teaching school age children the rudiments of beekeeping.
Nkwanta
Hive inspection
Project manager in white teaching hive management.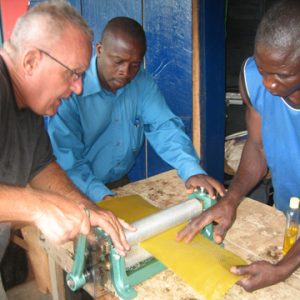 Nkwanta
Beeswax processing
4.8mm beeswax embossing machine in action.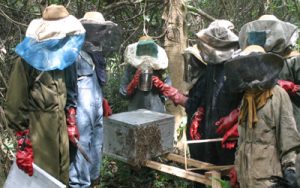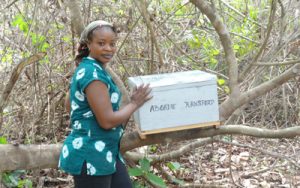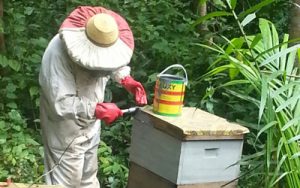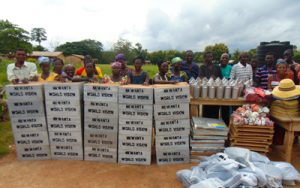 training program at a glance
Theory classes in Langstroth beehive technology
Swarm control and management
Brood box management
Bee site layout
Harvesting techniques
Foundation embossing demonstrations
Migratory beekeeping practices
Bee wax processing and preparation
Repair and maintenance
Modern processing facilities available for demonstrations
Certificate issued at completion of program
*All NGO bee sites are managed by our project coordinator; originally an Australian commercial beekeeper.
*Our project does not use medicines or chemicals in any of the hives. We employ the open brood system, therefore queen excluders are not used on any hive. All beehive byproducts including wax is completely organic as there are no agricultural activities in the area.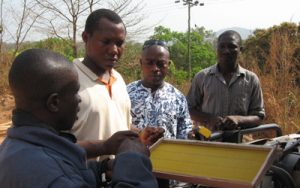 Foundation Sheets
Embedding beeswax foundation sheets on site using car battery.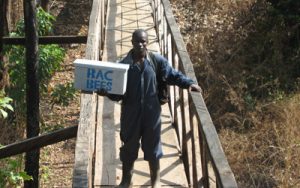 Catching Swarms
Student taking 5 frame catcher box into the field during swarming season.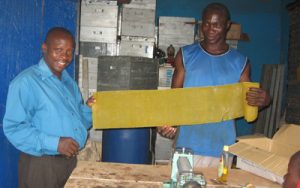 Embossing Wax
Field officer (right) teaching beeswax embossing.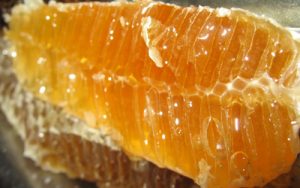 More about us
Beekeeping training technology, processing, quality control, packaging and labeling and bulk sales of honey and wax products are taught at the processing center under the direction of our NGO. Our training facility uses centrifuge extraction.
Our NGO does not involve itself with profit-making ventures, so all business involving beekeeping in Ghana or beekeeping equipment, honey and wax sales, which includes local and bulk sales to the capital Accra is under the control of Viyada Enterprise, (FDA registered). Through the direct influence of our project the Nkwanta Beekeepers Association was registered in 2010. One of the association's duties is to liaison with a project created marketing cooperative on such things as training in honey processing and quality control.
For further inquiries please follow the contact links on this page, thank you.